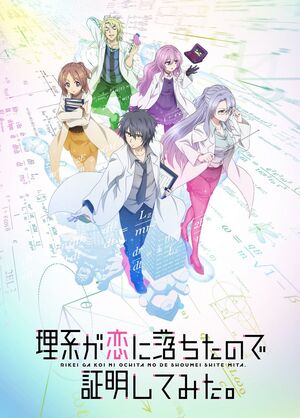 Rikei ga Koi ni Ochita no de Shōmei Shite Mita (理系が恋に落ちたので証明してみた., translation: "Science has fallen in love, so we tried to prove it") is a romantic comedy anime based on the manga created by mangaka Alifred Yamamoto. The anime adaptation will air in January 2020 and is being directed by Tooru Kitahata at Zero-G animation studio.
Like all other adaptations, the anime follows scientists Himuro Ayame and Yukimura Shinya as they try to scientifically prove their love for each other, as well as the wacky hijinks that ensue as a result of these proofs and the efforts surrounding them.
An experimental-sciences love comedy with laughs and kyun kyun with the laboratory where individual researchers come together as a stage.
Yukimura Shinya and Himuro Ayame are two scientists that want to find out if love can be solved by a scientific theory. These two scientists also have feelings for each other and want to be able to solve their true feelings through similar theoretical facts. With this perfect opportunity, these scientists will attempt to solve the theory of the love they express for each other.
Characters
Edit
Original Work: Arifred Yamamoto
Animation Work: Zero-G
Direction: Tooru Kitahata
Assistant Direction: Kenta Oonishi
Series Composition: Rintarou Ikeda
Character Design: Yuusuke Isouchi
Prop Design: Mahiru Shinya
Chief Animation Direction: Yuusuke Isouchi
Music: Shouichirou Hirata, Hisakuni, Kaoru Ootsuka, Takuma Sogi, Shuuhei Takahashi
Sound Direction: Yuuichi Imaizumi
Editing: Masaki Utsunomiya
Art Direction: Hirofumi Sakagami
Colour Design: Aiko Matsuyama
Photographic Direction: Kousuke Tanaka
Executive Producer: Kouichirou Natsume
Producer: Shunsuke Saitou
Script/Screenplay: Rintarou Ikeda, Michiko Yokote
Background Art: Totonyan
Episodes
Edit
#
Title
Air Date
01
Episode 1

TBA, TBA

January 2020
02
Episode 2

TBA, TBA

January 2020
03
Episode 3

TBA, TBA

January 2020
External links
Edit
Community content is available under
CC-BY-SA
unless otherwise noted.